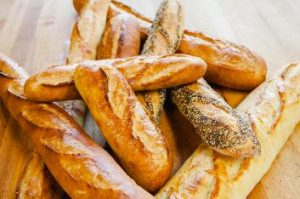 When the crowd saw that neither Jesus nor his disciples were there,
they themselves got into boats
and came to Capernaum looking for Jesus.
And when they found him across the sea they said to him,
"Rabbi, when did you get here?"
Jesus answered them and said, "Amen, amen, I say to you,
you are looking for me not because you saw signs
but because you ate the loaves and were filled.
Do not work for food that perishes
but for the food that endures for eternal life,
which the Son of Man will give you.
For on him the Father, God, has set his seal."
So they said to him, "What can we do to accomplish the works of God?"
Jesus answered and said to them, "This is the work of God, that you believe in the one he sent."
So they said to him, "What sign can you do, that we may see and believe in you?
What can you do? Our ancestors ate manna in the desert, as it is written:
He gave them bread from heaven to eat."
So Jesus said to them, "Amen, amen, I say to you,
it was not Moses who gave the bread from heaven;
my Father gives you the true bread from heaven.
For the bread of God is that which comes down from heaven
and gives life to the world."
So they said to him, "Sir, give us this bread always."
Jesus said to them,"I am the bread of life;
whoever comes to me will never hunger,
and whoever believes in me will never thirst."
Key Words
Love of Food | Lasagna | Food never Lasts | Loaves to get Attention | Looking for Jesus | Food that Forever Lasts
Love of Food
Who here has ever walked into a kitchen and smelled something cooking and had their stomachs growl?  (ask what the kids smelled) The other day I walked outside my favorite local bakery, Bread & Cie, and the delicious smells almost pulled me inside!
Who here has a favorite meal that they always love to eat?  (ask the kids for their answers)  In my case that is an easy answer……Lasagna.
Big wide noodles. My own home-made sauce. Parmesan, Mozzarella, and Ricotta. Lots of extra fennel thrown in. Layers of fresh spinach cooked in. Man – it just makes my mouth water thinking about it.
Food never Lasts
So when we think about what we hunger for, the obvious answers is always food. Every few hours we want to eat something. If you are rich, you still get hungry at meal times.  And I've read of people who are very, very poor, where hunger is described like an ache in their belly that never goes away.
Regardless, hunger for food is a constant in each and everyone of your lives. And no matter how much we eat at any meal, it never lasts.  We always long for more to eat.
Loaves to get Attention
Jesus said to those people who followed him "you are looking for me not because you saw signs
but because you ate the loaves and were filled." Jesus performed the miracle of the feeding of the 5000, not because it was paramount for him to provide food, but because He knew that feeding them would get their attention. Just like the smell of KFC or of Lasagne grabs your attention, Jesus wanted to grab their attention long enough that he could teach them about what they really needed in their lives.
Looking for Jesus
This is really what Jesus wants from us.  He wants our attention.  He wants us to be looking for Him. But this search should not be something that happens and when we find Jesus, we move on to the next thing.  Jesus wants us to hunger for Him and His word. He wants us to have that ache in our belly to know more about His teachings. Just like after a meal, we might be satisfied for a short time, we know we will soon enough get hungry again. And truly, how terrible would it be if after I ate Lasagne, I was forever full – never to be hungry again?
We should think of Jesus' teachings a bit like this. Every lesson we learn about His word, we might have our spiritual hunger satisfied for a short time. Hopefully, after Church, you think about the teachings a bit and let it percolate in your brain.  Hopefully – sometimes it gives you a few "ah-ha" moments where it brings you closer to a better understanding of your faith. But what Jesus wants is that we are hungry for His word the next time we go to church.  And the next time we learn more about God. And the next. and the next. There is so much to learn from the Word of God, that we can never be filled.
Food that Forever Lasts
So what do we make out of this last sentence in the said by Jesus? "I am the bread of life; whoever comes to me will never hunger, and whoever believes in me will never thirst."
Unlike hunger for food and hunger for learning, Jesus is speaking about the big hole in our lives. The hunger and the thirst in each of us that only the divine God can fill it.  This hole is where we need God to dwell personally with us. This is where we hunger for meaning for our lives and thirst for a connection to something bigger than our lives.  This something is God – Jesus, God in human form. He is the bread of life, whose sacrifice for our sins gives eternal meaning to our lives and provides us with a personal connection with the Father. Jesus is the answer to filling this emptiness that we hunger and thirst for.