耶稣听见的许多门徒说,
"这句话是 硬; 谁能接受呢?"
既然耶稣知道他的门徒对此抱怨,
他对他们说:"这样吗? 休克 你呢?
如果你看到了怎么办? 人的儿子 升序
到他以前的地方?
它是 精神 赋予生命,
虽然肉体无济于事。
我跟你说过的话是精神和生命。
但也有一些人不相信。"
Jesus knew from the beginning the ones who would not believe
而那个背叛他的人。
他说,
"因此我告诉过你,没有人能来找我
除非是我父亲给予他的。"因此,
他的许多门徒都恢复了以前的生活方式
并且不再陪伴他。
耶稣然后对十二说:"你也想离开吗?"
西门彼得 他回答说:"夫人,我们要去哪儿?
你有永生的话语。
我们开始相信了
并确信你是上帝的圣者。"
---
救主| 超级英雄| 其他的东西 震撼| Skedaddled | 西蒙彼得| 在真理中坚定不移
讨论
In the past few weeks, we have been speaking about Jesus attracting a crowd around him. They were attracted because they were looking for something. What were they looking for? Pretty simple:
A 救世主!
你认为犹太人在救主/弥赛亚中寻找什么?
Well, they wanted to crown him king and have him overthrow their oppressors, the Romans.. They wanted a military/political hero like Joshua. And, as it turns out Jesus's name originates from a rendition of the Hebrew Yeshua, which is how they said Joshua.
谁记得约书亚做了什么?
带领人们走出荒野
毁了耶利哥
为12部落推翻了以色列的所有土地
听起来像是一个 超级英雄 to me! Lets go back to what recently happened with Jesus.
耶稣治愈了一名男子因38年而瘫痪
他说他拥有生死攸关的权力
他用500面包和5鱼喂2
他走在水面上
他说他的面包会永远填满他们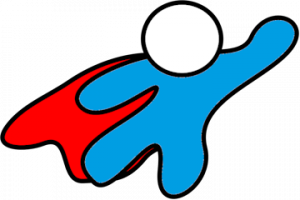 If I were looking for a superhero to help me overthrow the Romans, Jesus has all the credentials. Imagine, your army is fighting another army. But anyone on your side who gets hurt can now be healed. Anyone killed, brought back to life. No worries about bringing food – just bring the kid with XNUMX loaves and XNUMX fish and the army is good for food. Need to run away? Just walk across the water where your enemy cannot follow. This guy was the superhero of all superheros! Better than Spiderman, better than Superman! This is who they were expecting for the Nessiah – the guy who would save them!
但在展示了所有这些神奇的"力量"之后,耶稣做了什么?
他告诉他们他是 别的东西 entirely. He said he was the bread of life. He said that he was one with the Father. That he had the keys to everlasting life. And to gain eternal left we had to eat of his body and drink of his blood. He also told us that the Son of Man would suffer and die before he came again in his glory. This was 不 超级英雄谈人们想要的。
Jesus started off this gospel saying his teachings were hard – really hard. So hard, in fact, that the people were 震惊. Jesus just told them to be saved they needed to "eat my body and drink my blood" to be saved.
喝什么? 吃什么?
这是疯狂的谈话! 还有更多 - 耶稣不想成为国王?!?! 这些都不是犹太人在他们的救主里想要的。 他们想要一位超级救世主带领他们。 当某些东西不符合他们的期望时,人们会怎么做?
他们匆匆忙忙!
想象一下 - 一群巨大的人群出现在一场音乐会上,期待一个惊天动地的摇滚乐队比滚石乐队更大的东西。 人群期待着灯光,雷鸣般的声音和奇观。 相反,耶稣拉出尤克里里琴并开始弹奏 彩虹之上.
This was not what the crowds were here for. Just imagine everyone streaming towards the exits. Skedaddled means to "depart quickly". Imagine an entire amphitheatre empty in XNUMX minutes.
Jesus, on stage, finishes his song and looks at the empty stadium. He then looks back at his bandmates, the XNUMX disciples, and asks, "Will you leave too?" Simon Peter answers for all of them. Let's look back at the text again here:
西门彼得 answered him, "Master, to whom shall we go? You have the words of eternal life. We have come to believe and are convinced that you are the Holy One of God."
西蒙彼得指甲! 甚至耶稣也对这个答案感到惊讶。 耶稣说父亲向西门彼得启示了这一点。
我们从中汲取了什么教训?
Well – sometimes the truth isn't easy. But when you learn truth, you need to be 强烈 in your belief of it. You need to be 坚定 in your defense of it. Simon Peter was called the ROCK because he would steadfast in his defense of Jesus' message in time to come.
在你的生活中,有些时候人们会挑战你所知道的真实。 有些人会说"看看有多少人离开了教会,它怎么可能是真的?"西蒙 - 彼得今天向我们展示的是,无论人群如何被嘲笑,我们必须坚定信念,因为只有耶稣才有"永生的话语"
Because life will challenge our beliefs. People will not want to be around us because of what we profess. We too, need to be steadfast – a ROCK for Christ.